Looking for a
Specific solution?
We have a range of filters to help narrow down your search criteria
What Our Customers Think
Absolutely loved the training provided by Ray this week. He was very knowledgeable in his field and passed this knowledge on in way and at a speed to suit each learner. Ray provided so much valuable information for us especially around health and safety, machine use and operation that will be of vale to the students for years to come. He has been a pleasure to have on site for the duration of the training and we hope to see him again in the future. - HMP The Verne, Woodworking Machine Training course
The Didac programme was a great way to kickstart my career at Howdens, it allowed me to learn through the job role and I had great support from my trainer. I would recommend Didac to anyone looking to start an apprenticeship. - Customer Service Practitioner Apprentice, Howdens Joinery
I am very satisfied with the quality of the course and training I received, it has helped me develop greatly in my career whilst also giving me the opportunity to learn whilst I earn. - Customer Service Practitioner Apprentice, Howdens Joinery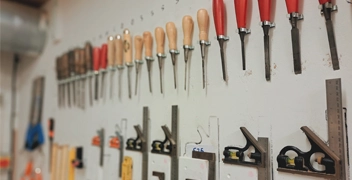 Furniture & Woodworking


16-18 Study Programme

Skills for furniture making & woodworking in a

ll walks of life....