Forklift Truck Training


Industrial & Plant
Accreditation
Independent Training Standards Scheme & Register (ITSSAR)
Training Delivery
On-site (Nationwide)

✔

Training Centre

✘
Training is available to
Novice

✔

Experienced

✔

Refresher

✔

Conversion

✔
Duration, Learners and Assessment
Training Duration

1-5 Days

Learners

3 Maximum

Theory Assessment

✔

Practical Assessment

✔
Course Handout
Training Manual and User Guidance

✔
Certificates & Registration
Registration Fee Per Person (Paid directly to ITSSAR)

£8.00 + VAT

Photo ID Card (750gsm)

✔

Certificate

✔
HSE Compliance
PUWER 1998

✔

LOLER 1998

✔

The Health and Safety at Work Act 1974

✔
Forklift Truck Training


Industrial & Plant

Course Type / Short Course

Didac provides Forklift Truck training courses to customers on their own site, throughout the UK.

Training is ITSSAR accredited, delivering practical skills and theoretical knowledge allowing candidates to operate in compliance with HSE requirements. 

Course duration is dependent upon learner numbers and candidate experience. Customers should enquire to discuss their exact requirements.

Successful candidates are awarded a photo ID card and certificate.

The client is required to supply the Forklift Truck, all PPE and equipment for training.
Training syllabus
Responsibility of the operator
Operational Safety Code
Site Safety
Risk Assessment
Simple Manoeuvring
Advanced Manoeuvring
Basic Hydraulic & Electrical systems
Daily Safety Checks & Maintenance
Refuelling / Recharging
Stacking & De-stacking (Free & Racking)
Practical Examinations
Vehicle Loading (where applicable)
Additional benefits
Incorporate your company's risk assessments
Soft copies of all course paperwork are available to employers on completion of training
Successful candidates receive a temporary pass notification form on the day as evidence of training
Does my Forklift certificate cover me to operate any type of Forklift Truck?
No.
You need to receive training for each type of Forklift Truck that you want to operate i.e. Counterbalance, Reach Truck, Sideloader etc.
These are often separated into categories such as size, weight or lifting height which can restrict what you can and cannot operate.
You should refer to the [permalink id=3218]BITA List[/permalink] to establish what your Forklift training certificate permits.
Is there a minimum age requirement for completing Forklift training?
Yes.
Lift Truck operators in the UK must be over the minimum school leaving age (except in docks where they must be at least 18 years old).
With the exception of Lift Truck operators, there is no minimum age outlined in any UK legislation for operators of other plant machinery.
You can find out more here: HSE Workplace Transport FAQ.
Is there an upper age limit for completing Forklift driver training?
No.
Do I receive a Forklift licence when I complete this training?
There is no such thing as a license as such, for any piece of plant machinery in the UK.
The term 'licence' suggests a document issued from a governmental or other constituted authority to operate a Forklift Truck. No such authority exists; there are only accrediting bodies and training providers who operate independently of the HSE or any other government organisation.
Successful candidates do receive a certificate and photo ID card, sometimes referred to as a Forklift ticket; this provides evidence that the candidate has completed a Forklift Truck course and is certified to use the equipment as outlined on the Forklift certification.
Can I use this training to drive a Forklift Truck on the public highway?
To operate a Forklift, whether on the public highway or not, the operator should be properly trained and certified.
Public highways in the UK are governed by the DVLA; the same rules apply for operating plant machinery on the road as with operating a different type of motor vehicle.
The vehicle must be properly taxed.
A valid insurance policy must be held.
The driver must hold a valid road driving licence.
Didac Forklift training conforms to the standards contained in the HSE publication Approved Code of Practice L117 'Rider-operated lift trucks: Operator training'. Fork Lift training is accredited to ITSSAR whom the ACOP L117 specify as a body competent to accredit and monitor Lift Truck training providers. Successful candidates on the Forklift course achieve a Forklift licence in the form of a photo ID card and Forklift certificate.
Refresher Forklift Truck training is a recommended best practice to eliminate bad habits and update operatives on current legislation regarding the use of Lift Trucks. As a guideline, a Forklift license should be refreshed every 3 – 5 years (as recommended by the Health and Safety Executive) but some discretion should be exercised to maintain competency and ensure safety.
Candiates on the Forklift training course must have appropriate personal protective equipment (PPE) including safety footwear and hi viz coat or vest. The client is responsible for supplying this PPE and must be worn at all times during Forklift courses. Clients should also make manufacturer instructions for the Fork Lift Truck available to the instructor for reference during the Forklift Truck training course.
Forklift licence training candidates will undertake both practical and theoretical assessments to determine competence. Practical Forklift driver training will include instructor demonstrations and learner exercises to develop competency of operators. A theory assessment is required for candidates to demonstrate knowledge which together with the practical assessment is evidence enough for operatives to achieve Forklift certification.
Training for a Forklift driving license on-site offers the advantage that the course can be tailored to your own equipment and operational requirements. The outcome is that Forklift operator training is relevant to your company. Candidates may also find that they are more relaxed in a familiar surrounding resulting in a higher rate of achievement. Didac trainer assessors will incorporate practical tasks meaning candidates are able to undertake Lift Truck license training on jobs they are required to complete in their normal working day.
Forklift Truck driver training can be delivered on-site throughout the UK to achieve a Forklift ticket. Forklift Truck training cost will depend on the location of client premises.
We provide on site training therefore, the client is required to supply the Forklift Truck, all PPE and equipment the candidates require for training purposes, along with sufficient space for practical training and a meeting room to cover theory elements and test.
Lift truck types, makes & models
Forklift truck courses are available across the majority of makes, models, types of lift trucks and attachments including but not limited to the following.
NOTE: If you do not see the equipment for which you require training this does not mean that our trainers / assessors are not qualified to deliver the training you need.
Lift Truck Types.
Makes & Models.
Continued.
Bendi Truck

Multidirectional
Counterbalance
Order Picker
Pallet Truck
Reach Truck
Sideloader
Telehandler

Pivot Steer

Atlet
Combilift
Crown
Daewoo
Doosan
Flexi
HC
Hubtex
Hyster
JCB
Jungheinrich
Komatsu
Linde
Mitsubishi
Nissan Forklift
ST Engineering
STILL
Toyota
Voltas
YaleBendi trucksFlexi trucksCombilift
Motive Power.
Attachments.
Diesel
Electric
LPG
Barrel Clamp
Carpet Pole
Drum Handler
Man Basket
Positioner
Sideshifter
Telescopic Forks
On-site Forklift training, UK wide
Didac deliver on-site Forklift Truck training and other plant courses to any location across the UK, including Scotland, Wales, Northern Ireland and the Channel Islands.
Some recent on-site training locations include:
Brighton
Bristol
Cardiff
Coventry
Derby
Dorset
Gloucester
Hampshire
Kent
Leicester
Lincoln
London
Newport
Nottingham
Portsmouth
Sheffield
Southampton
Surrey
Sussex
Swindon
Yorkshire
Overseas Work
Didac will always consider work overseas.
Contact us about our overseas work policy.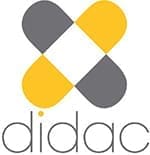 Review Title
Please feel free to leave us a review!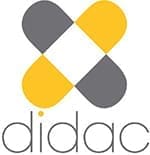 Review Title
Please feel free to leave us a review!