360 Excavator Training


Industrial & Plant
Accreditation
Independent Training Standards Scheme & Register (ITSSAR)
Training Delivery
On-site (Nationwide)

✔

Training Centre

✘
Courses Available
Below 5 Tonnes

✔

Below 10 Tonnes

✔

Above and Below 10 Tonnes

✔
Training is available to
Novice

✔

Experienced

✔

Refresher

✔
Duration, Learners and Assessment
Training Duration

1-10 Days

Learners

3 Maximum

Theory Assessment

✔

Practical Assessment

✔
Course Handout
Training Manual and User Guidance

✔
Certificates & Registration
Registration Fee Per Person (Paid directly to ITSSAR)

£8.00 + VAT

Photo ID Card (750gsm)

✔

Certificate

✔
HSE Compliance
PUWER 1998

✔

LOLER 1998

✔

The Health and Safety at Work Act 1974

✔
360 Excavator Training


Industrial & Plant

Course Type / Short Course

Didac provides 360 Excavator training courses to customers on their own site, throughout the UK.

Training is ITSSAR accredited, delivering practical skills and theoretical knowledge allowing candidates to operate in compliance with HSE requirements. 

Course duration is dependent upon learner numbers and candidate experience. Customers should enquire to discuss their exact requirements.

Successful candidates are awarded a photo ID card and certificate.

The client is required to supply the Excavator, all PPE and equipment for training.
Training syllabus
Controls and instruments
Coolant, fuel and lubrication systems
Current relevant regulations
Excavating deep and shallow excavation
Explanation of attachments
Introduction to the machine
Other associated activities
Pre – shift inspections
Trenching, back-filling, levelling and marking out (where applicable)
Additional benefits
Incorporate your company's risk assessments
Soft copies of all course paperwork are available to employers on completion of training
Successful candidates receive a temporary pass notification form on the day as evidence of training
Does my 180 Excavator ticket cover me to operate a 360 Excavator?
No.
180 and 360 Excavator certifications are not interchangeable.
Is there a minimum age requirement for completing 360 Excavator training?
With the exception of Lift Truck operators, there is no minimum age outlined in any UK legislation for plant operators.
Lift Truck operators in the UK must be over the minimum school leaving age (except in docks where they must be at least 18 years old).
You can find out more here: HSE Workplace Transport FAQ
Is there an upper age limit for completing 360 Excavator training?
No.
Do I receive a Digger licence when I complete this training?
There is no such thing as a licence as such, for any piece of plant machinery in the UK.
The term 'licence' suggests a document issued from a governmental or other constituted authority to operate an Excavator. No such authority exists; there are only accrediting bodies and training providers who operate independently of the HSE or any other government organisation.
Successful candidates do receive a certificate and photo ID card, sometimes referred to as a Digger ticket; this provides evidence that the candidate has completed training and is certified to use the equipment as outlined on the certification.
Can I use this training to drive an Excavator on the public highway?
To operate an Excavator, whether on the public highway or not, the operator should be properly trained and certified.
Public highways in the UK are governed by the DVLA; the same rules apply for operating plant machinery on the road as with operating a different type of motor vehicle.
The vehicle must be properly taxed.
A valid insurance policy must be held.
The driver must hold a valid road driving licence.
Digger driver training equips drivers with a basic knowledge of the machines mechanics to conduct rudimentary inspection and maintenance of the equipment in line with manufacturer recommendations. Candidates on Digger courses will also undertake training exercises in excavation methods and techniques.
Our work-based training approach means the trainer assessor can tailor 360 Excavator training to the type of Excavator, attachments and specific job requirements to equip your employees with the relevant skills to be effective in their job. Whether that's demolition, material handling, forestry work, landscaping or other, our professional instructors can deliver a 360 Digger training course for your needs.
Digger operator training is to the nationally recognised level as required by the Provision and Use of Work equipment 1998 (PUWER 1998) and Section 2 of the Health & Safety at Work Act 1974.
Excavator training is delivered on the customer site; the client is required to supply the Excavator, all PPE and equipment.
We provide on site training therefore, the client is required to supply the excavator, all PPE and equipment the candidates require for training purposes, along with sufficient space for practical training and a meeting room to cover theory elements and test.
Digger training courses are available across the majority of makes, models, types of machinery and attachments including but not limited to the following.
NOTE: If you do not see the equipment for which you require training this does not mean that our trainers / assessors are not qualified to deliver the training you need.
Excavator Types.
Attachments.
Barge
Compact
Counterweight
Crawler
High Chassis
Hydraulic
Log Loader
Rubber Ducks
Tracked
Trackhoes
Wheeled
Auger
Backfill Blade (Dozer)
Breaker
Bucket
Grapple
More on request
Makes & Models.
Continued.
Continued.
BEML Limited
Bobcat
Bucyrus Erie
Case
Caterpillar (CAT)
Doosan
ENMTP
Hitachi
Hitachi Construction Machinery Europe
Hydrema
Hyundai Heavy Industries
JCB
John Deere
Kobelco
Komatsu
Komatsu Limited
Kubota
Larsen & Toubro
Liebherr
LiuGong
Mitsubishi Heavy Industries
New Holland
Sany
ST Engineering
Takeuchi
Terex
Terex
Volvo
Wacker Neuson
XCMG
On-site 360 Excavator training, UK wide
Didac deliver on-site 360 Excavator training and other plant courses to any location across the UK, including Scotland, Wales, Northern Ireland and the Channel Islands.
Some recent on-site training locations include:
Brighton
Bristol
Cardiff
Coventry
Derby
Dorset
Gloucester
Hampshire
Kent
Leicester
Lincoln
London
Newport
Nottingham
Portsmouth
Sheffield
Southampton
Surrey
Sussex
Swindon
Yorkshire
Overseas Work
Didac will always consider work overseas.
Contact us about our overseas work policy.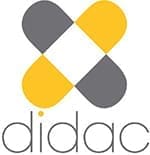 Review Title
Please feel free to leave us a review!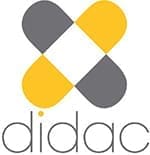 Review Title
Please feel free to leave us a review!